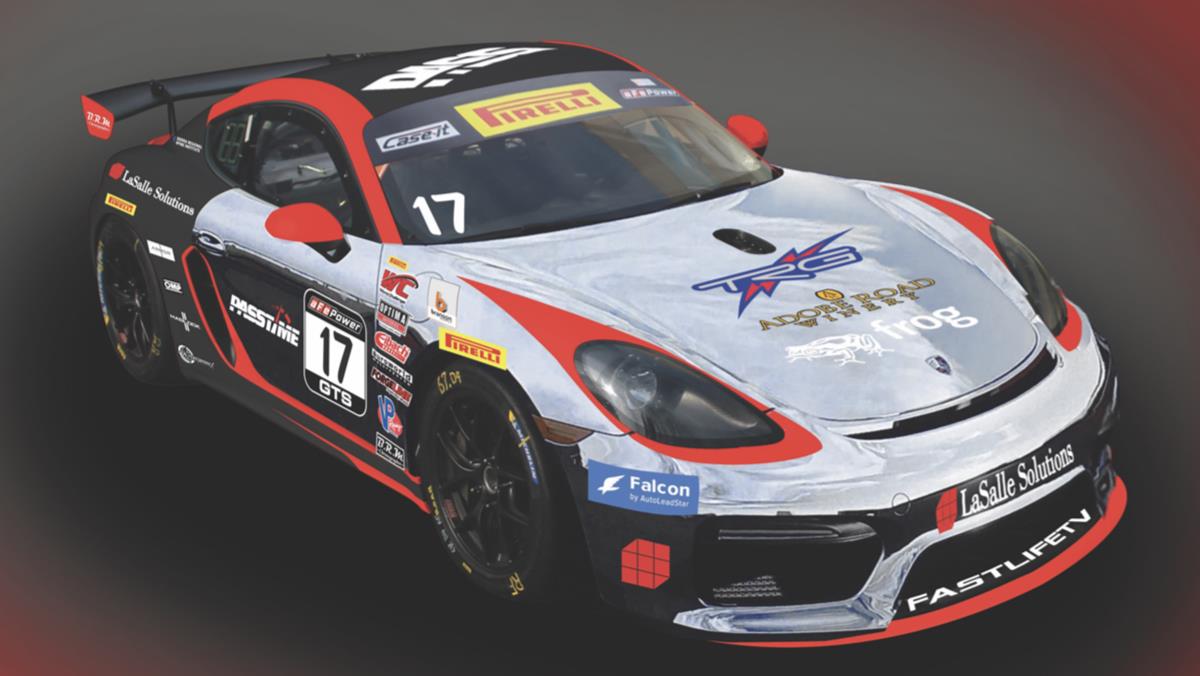 ---
2019 Season Announcement!
The Racers Group Announces our SRO
Motorsports / Pirelli GT4 America 3 Car Campaign Running for Championships
in BOTH Classes!
Pirelli GT4 America SprintX
Co-Drivers - #17 Car:
Dr. Jim Rappaport, Derek DeBoer
and Sean Gibbons
• West Coast Races - Dr. Jim Rappaport, Derek DeBoer
• East Coast Races - Derek DeBoer and Sean Gibbons
Pirelli GT4 America Sprint
Driver - #66 Car:
Spencer Pumpelly
Pirelli GT4 America SprintX
Co-Drivers - #67 Car:
Chris Bellomo and Kevin Woods
• West Coast Races
PETALUMA, CA: The TRG team is set to launch the 2019 Pirelli GT4 America season with one of its strongest lineups to date. With three new, Porsche GT4 Clubsport MRs, competing in two classes, the team is prepared to surpass their 2018 PWC season. TRG welcomes the return of drivers Spencer Pumpelly, Chris Bellomo, Dr. Jim Rappaport, Derek DeBoer and Sean Gibbons to the 2019 season and welcomes Kevin Woods to his first season with TRG.
A full season in Pirelli GT4 America means that guests and team supporters can expect an exciting calendar of race-weekend entertainment provided by the TRG business and hospitality crew. From private race seating and cocktails at The Dalí Museum during the Grand Prix of St. Petersburg to Adobe Road Winery dinners at Weathertech Laguna Seca, this experienced team truly knows how to throw a party! After the incredible sponsor and guest turnout during the National launch of our new wine brand, The Racing Series, in January, it is clear the group's track record for blending racing and entertainment in new and exciting ways is continuing to draw potential partner/sponsors from all over!
#17 Porsche Cayman GT4
Dr. Jim Rappaport, Derek DeBoer, and Sean Gibbons
will be driving a new, 2019 Porsche Cayman GT4 Clubsport MR for the Pirelli GT4 America SprintX East and West Races.
Driver - Dr. Jim Rappaport
Dr. Rappaport's passion for motorsports racing comes from his appreciation of the beauty of the cars, fascination with the technology and the challenge of perfecting every detail to win. He began racing three years ago with the Sports Car Club of America, where he met his now coach and mentor, Robert Orcutt, and was fortunate to win his first race in GT2 in a Porsche Cayman. He won his next SCCA race also and that was all it took to know this was something he was meant to do. Dr. Jim approached racing with the same dedication, focus and hard work that has made him such a sought after Spinal surgeon for the past 34 years and, with the support of Robert and the TRG team, his skills progressed rapidly and he quickly moved to the Pirelli Trophy Cup series last season. 2018 was a great year for Dr. Jim with a win in the GT4 category at Thermal, multiple second place podiums and a strong finish to the season in second place for the Championship! With such a strong foundation, it is no surprise that he is moving up once again to compete in the 2019 Pirelli GT4 America West races with his co-driver, Derek DeBoer.
"I am elated to be making the jump so quickly to the Pirelli GT4 America series. I have been watching the series from the sidelines the last three years and, with the assistance of my awesome coach, Robert Orcutt, and the entire TRG team, we've turned a very aggressive 3-year plan into reality. I could not be more excited to be sharing the car with such an incredible co-driver like Derek DeBoer this season and to be backed by a team with the incomparable heritage of The Racers Group. I have always loved racing. The constant challenge and incredible fun of seeking endless perfection to win on the track have so many similarities to my 34-year career as a spinal surgeon and that really resonates with me. The bonus is the fantastic group of people and the whirlwind of social events that surround the tracks all season. I am truly 'living the dream' and this is going to be a fantastic season!"
Driver - Derek DeBoer
Derek DeBoer has racing running through his veins. Derek's grandfather raced in the local dirt car circuit and his father followed, albeit in Top Alcohol dragsters, racing in a straight line. Derek's racing career began 17 years ago at Laguna Seca in a Formula Dodge. Derek has raced in the competitive Formula Renault open-wheel series and spent several years in the ST class of Grand Am. No stranger to the world of endurance racing, Derek won at the 2015 LeMans Aston Martin Festival race, had his first shot at the Rolex 24 at Daytona the same year, and has raced multiple times in the 25 hours at Thunderhill. He's also competed in multiple Continental Tire Series races. Derek joined The Racer's Group in 2013 and has been part of the TRG racing family ever since. He is always a threatening contender in the Pirelli GTS and SprintX categories, finishing 2nd in the championship in 2015 and consistently coming away with strong finishes, podiums, and victories and 2019 looks to be especially promising with two co-drivers and a full season covering the Pirelli GT4 America SprintX East and West races ahead of him.
"I am beyond excited to be moving into the start of my 5th season with TRG! Every part and person involved with this program really feels like family and the same goes for the World Challenge staff and paddock. It is just a year that really feels like things are clicking and going the right direction- Porsche has delivered us a beautiful new weapon, I get to join great and familiar teammates again with Sean and Spencer, FASTLIFE.TV has just launched a 2nd Season on Amazon, and I get to work with Dr. Jim Rappaport in bringing him into his first big steps into Pro Racing! I just love it and can't wait for things to kick off in March! There's no place I'd rather be!"
Driver - Sean Gibbons
Sean Gibbons started racing later in life though he's always had a strong passion for sports cars along with the focus, drive, and determination it takes to succeed as a driver. Sean graduated from the Skip Barber racing school's MX-5 cup program and entered his first race in 2012 in the highly competitive PCA Spec Boxster class. He won rookie honors that weekend, finishing second in his first race. Since then Gibbons has put his car on the podium nearly 70 percent of the time and set a number of track records in both the PCA and NASA series. With only 8 professional races, he has been on the top step of the podium twice and a runner up once. In 2019, Sean will once again be teamed up with Derek DeBoer for the Pirelli GT4 America East races in the new, #17, TRG / Passtime / Lasalle Solutions 2019 Porsche Cayman GT4 Clubsport MR.
"I am super excited to be picking up where we left off at the close of last season with TRG. We had a really good result in the SRO California 8 hour and look forward to pairing with Derek in the Pirelli GT4 America SprintX East Coast races in a brand new Porsche Cayman GT4 Clubsport. With our continued support from LaSalle Solutions and the return of Passtime GPS Solutions, we are going to have a great 2019 season."
#66 TRG / La Salle Solutions Porsche Cayman GT4
Spencer Pumpelly will be driving the new, TRG / LaSalle Solutions, 2019 Porsche Cayman GT4 Clubsport MR for the Pirelli GT4 America Sprint Races.
Driver - Spencer Pumpelly
Spencer Pumpelly was introduced to racing at a young age while watching his father contest the IMSA GTP Championship in a Ford Prototype during the late 1980s. In 1995 he enrolled in the Skip Barber Racing School and has since raced in many classes of cars successfully. He is a twenty-three year veteran of professional sports car racing and a two- time class winner in the Rolex 24 at Daytona and the 2016 Continental Sportscar Challenge ST champion. He holds multiple victories in IMSA, World Challenge, and Continental Challenge competition including class victories in six major IMSA endurance races and has appeared in the 24 Hours of Le Mans four times.
Known as one of the most talented drivers in the sportscar racing circuit, Spencer is a highly sought after driver, coach, and race winning strategist. Spencer rejoined TRG in 2018 and is no stranger to success with this team. During his six-year-long relationship with TRG, Pumpelly was a fixture on the podium with four top-three finishes in the Rolex 24, a second-place at the 12 Hours of Sebring in 2011, two six-hour victories and more than a dozen wins and numerous podiums, across a variety of series including; Continental Tire Sportscar Challenge, Grand-Am, and American Le Mans. He also scored a podium in the NJMP ARCA NASCAR series and in 2011 brought home an epic GT class win (Pumpelly's second) at the Rolex 24 at Daytona...with no clutch!!!
"The upcoming Pirelli season should be a fun challenge in the brand-new, Porsche Cayman GT4. The field will be strong and the short races make for an intense on track battle every time we take the green. The schedule takes us to some exciting venues and, with the Support of LaSalle Solutions, Adobe Road Winery, and The Racers Group, we are positioned for a great 2019."
#67 Porsche Cayman GT4
Chris Bellomo and Kevin Woods -
Chris Bellomo and Kevin Woods will be driving a new, 2019 Porsche Cayman GT4 Clubsport MR for the Pirelli GT4 America SprintX West Races.
Driver - Chris Bellomo
Chris Bellomo started his racing career in 2017. After a few local track days with a good friend, he was hooked. A 3-day SCCA school sealed the deal. That led to several SCCA races in a Spec Miata, which then led to his coach introducing him to TRG and his current Porsche Cayman Clubsport MR. Chris started racing his Porsche when he joined the Pirelli Trophy West USA Series at the start of 2018. During the year, Chris garnered 9 Silver Class victories and the season championship. Most recently, he won the GTD class at Rennsport and broke the PCA Racing GTD class qualifying and race lap track records at WeatherTech Raceway Laguna Seca. Robert Orcutt has been coaching Chris since his first track days and that relationship has been instrumental to Chris' early success.
"Regarding the up and coming Pirelli GT4 America SprintX season...I'm really excited to be co-driving with Kevin Woods in the inaugural season. Kevin is an extremely talented and well-respected driver who has had a lot of success behind the wheel over the past few seasons. I'm looking forward to learning from his experiences and work ethic. My coach, Robert, and I are putting together an aggressive driving schedule that will prepare me for the new challenges of this season in SprintX, and I am looking forward to an amazing year of racing with Kevin as my teammate/co-driver, Robert's coaching expertise, and the excellent support crew the TRG team has assembled. Fun times ahead in the #67 Caprock, Gusto, Bell Helmet, TRG, Sabelt, Porsche GT4!"
Driver - Kevin Woods
Kevin Woods, a California Native, discovered his original need for speed at the age of 10 from his father who used to race at the local drag strip. He wouldn't actually begin his own motorsports journey until the age of 38, but despite the later than usual start, he was motivated and competitive from the very beginning. During his maiden race weekend at Weathertech Raceway Laguna Seca, Kevin got his first taste of victory. From there he would go on to win an open-wheel championship driving a Pro Formula Mazda in his first full season of competition. Since then, Kevin has been honing his motorsports racing skills in the Pirelli Trophy West USA series where he made a strong name for himself with an impressive tally of podiums, wins, and championships including a spectacular 2018 Season where he racked up an incredible 10 victories and the Diamond Class Championship Title!
"I am really excited to be joining Chris Bellomo and TRG for the 2019 Pirelli GT4 America West series. Chris is a driver I've watched win a Pirelli Trophy West USA Championship in his first attempt. He's fast, competitive, and a great person to be around, which is all of the ingredients for a very successful driver pairing. TRG is a team that I have admired for many years, it will be an honor to finally work with them. The level of professionalism that I've witnessed from the team in preparation for the season is as high as it gets."
Pro Coach - Robert Orcutt
"As Chris Bellomo's coach and mentor, SprintX and the Pirelli GT4 America season is something I can't wait to get going on. Makes me rub my hands together with anticipation! Chris is going to be ready for the first race at Circuit of the Americas (COTA) for sure...as last year was a solid building block of skills, experiences, and successes that were focused to step up to Pirelli GT4 America. With a really solid teammate like Kevin Woods as Chris' co-driver, I sense there will be a lot of eyes watching to see what this duo is made of. Chris is ready, Kevin's ready, the team is assembled and ready. Can't wait and I'm glad to be back with TRG!! - Robert Orcutt
KEVIN BUCKLER, CEO
Kevin Buckler, Founder, and CEO of The Racers Group
The Racers Group Founder and CEO, Kevin Buckler, had this to say for the 2019 full season entry, "It is fantastic to have a powerful two-car team heading into our first big event at Circuit of the Americas (COTA) in Austin and to be running three cars, with 6 such incredibly passionate and talented drivers, for the full season! We are gunning for two championships... One in PRO and one in AM.
Derek and Jim are going to make a formidable duo in their first season racing together in the Pirelli GT4 America SprintX West races and will be sharing the #17 car throughout the season with Sean Gibbons, who we are excited to have partnered with Derek again this year for the Pirelli GT4 America SprintX East races. They are all terrific drivers, with great relationships with each other, which makes it even more awesome!
Having Chris Bellomo back, with professional coach and long-time TRG partner, Robert Orcutt, is another major bonus. Chris is a talented driver and a terrific guy with so much potential and his co-driver, Kevin Woods, is an amazing addition to the TRG team. Having a driver like Kevin, who is not only fast, but just incredibly solid across the board, is the perfect complement to Chris and they will make a formidable team. We are excited to have such a great matchup with this pair and look forward to winning some races together!
The return of Spencer Pumpelly to the TRG team for the Cal 8 Hours race in 2018 was big for us. Spencer raced with TRG for 6 years, starting in 2006, and having such a dynamic driver come back for a major race last season and then go "all in" this season says a lot about our relationships. We have such a strong history together, including several big GT class wins, so we know this is going to be an exciting year on the track. We are definitely running for a championship and hope to make Porsche proud.
I often get asked what I love most about racing (and why I keep doing this) and I tell them that what is probably the most important thing to me is that all of the people who are with us throughout the year from our drivers, sponsors, and guests to our team members who keep things running behind the scenes, is that they are also my friends and our "racing family". We have close relationships with all of the drivers and their families — moms, dads, spouses, and kids — and this makes the weekends just that much more special to look forward to.
We are also thrilled to have Steven Robb and LaSalle Solutions back as a partner again this year. The company is a leading provider of IT life-cycle asset and maintenance contract management services, one of the largest Cisco resellers and the partnership with TRG focuses on strong business-to-business, co-branding and high-end corporate hospitality events. Steve totally gets it and is a "model" for other businesses that are looking to extend an advertising budget and are looking at motorsports. Many of the companies we have worked with say that this provided them with the strongest ROI of any of their marketing budget investments. I always say that the paddock is the most "fertile fishing ground" that you can find and Steve and I always find ways to partner with other companies to help them understand the wonderful benefits of the motorsports sponsorship and make sure they receive a solid ROI. He is amazing. We are also pleased to welcome back PassTime GPS as a season-long sponsor partner with Sean Gibbons and TRG. They make some amazing, cutting-edge, tracking devices that are really the rage right now and everybody should check them out!
"I have to say we are all very excited to be racing the entire season with Pirelli GT4 America. The Series has put together an awesome schedule that makes it's easy for us to compete and to put together the budget. I have a strong personal relationship with most of the staff and they make you feel like "family". The series has really grown through the acquisition and vision of Stéphane Ratel and SRO, and with Greg Gill's leadership and tenacity, these guys are here to stay and are only going up! I really respect what the Series is doing and will make my home there this year."
"We could not do any of this without the fantastic support of Porsche and Porsche Motorsports. A big shout out to Daniel Armbruster and his team at PMNA for another awesome Porsche racecar and the ever present professional support that we receive. This is our 27 year in motorsports and most of it with Porsche and I have seen all sides of how the different manufacturers provide support, and work with their teams but there's just nothing like the family that Porsche has created and the results that we have seen together. Sometimes I look back and almost shake my head at some of the things that we have accomplished together but it is all part of the 4 letter word I love to use….TEAM…. and we are all part of this winning team and we could not do it without our friends and family at Porsche and Porsche Motorsports." - Kevin Buckler
After the season opener in Austin, TRG will head to the Grand Prix of St. Petersburg for a weekend of action-packed racing and opulent hospitality including fabulous dinners featuring Adobe Road Winery and The Racing Series, intimate access to The Dalí Museum, and up-close access to the race team.
THANK YOU TO ALL OF OUR AMAZING SPONSORS!
"We are excited to continue our partnership and winning with TRG for the Pirelli GT4 America 2019 Season," said Steven Robb, president of the Solutions Group at LaSalle Solutions, "Working with TRG has provided success on and off the track, and this season should be no different. We look forward to a great season and achieving podium finishes for the team, our customers and partners." Steven Robb, president of the Solutions Group at LaSalle Solutions.
"PassTime is proud to be partnering with TRG again in 2019. They have an outstanding team focused on building success both on the track and in the boardroom," said Chris Macheca, president of PassTime. "It's extremely important that we cultivate the opportunities the partnership is able to deliver, and we're elated with the dividends its already paying. The prospects for this season are looking exceptional both on and off the track and we're very excited to be back with TRG."
BRM is proudly partnered with the TRG team in the #17 car of Derek DeBoer, Dr. Jim Rappaport, and Sean Gibbons. By purchasing an amazing new, #17 car model BRM watch, "YOU become part of the team and will gain VIP, all access entry to any 2019 race of your choice!" - Derek DeBoer. Team Driver - The Racers Group - Porsche
Purchase inquiries:
Contact Derek DeBoer - derekdeboer@me.com
Founded in 1980, LaSalle Solutions is a leading provider of technology lifecycle information management services for technology and capital assets. These services include acquisition and financing, IT asset management, maintenance contracts management, remarketing and disposition. LaSalle Solutions' processes, outstanding customer service and powerful, market-leading cloud-based platform, LAMP, enable customers to more economically and effectively manage and plan to meet their goals.
LaSalle Solutions is an independently operated company and a subsidiary of MB Financial Bank, a publicly traded Chicago-based bank holding company. MB Financial is traded on the NASDAQ as "MBFI."
For more information on LaSalle Solutions, please visit www.lasallesolutions.com and www.YouTube.com/LaSalleSolutions.
LaSalle Solutions and LAMP are registered trademarks of LaSalle Solutions in the United States.
PassTime is a leading provider of GPS Solutions and has been in business for more than 25 years. PassTime's GPS telematics products help connect vehicles and protect assets for multiple sectors of the automotive and powersports industries including auto dealers, auto finance companies, fleet transportation providers and consumers. The company prides itself on high-quality, reliable products and unmatched customer support.
For more information, please visit www.passtimegps.com
The Racers Group, based in Petaluma, California, has competed at the top levels of professional motorsports since it was founded in 1992. TRG is the most successful independent GT sportscar team in modern history with 7 series championships, 4 GT victories at the Rolex 24 at Daytona (once overall), a GT victory at the historic 24 Hours of Le Mans, and nearly 200 combined podium finishes in major sportscar competitions worldwide. TRG has raced successfully with Porsche, Aston Martin, and General Motors, competing in most major race Series including three years in the NASCAR Sprint Cup Series.
The company also offers comprehensive partnership/sponsorship, business development, networking, and experiential marketing programs including; race hospitality, VIP/client entertainment, track days, corporate events, and employee team building.
Learn more at www.TheRacersGroup.com
Adobe Road Winery is an award-winning, boutique winery located in Petaluma, California, specializing in small, handcrafted lots of select varietals and extraordinary, cutting-edge blends. Adobe Road Winery's founder, Kevin Buckler, has battled at the highest level of professional sportscar racing as both a driver and an owner for more than two decades. Among his team's 200+ podium finishes, are victories at some of the world's most prestigious endurance races, including the 24 Hours of Le Mans and the 24 Hours of Daytona (4 times). Winning at this level of racing requires extreme focus, attention to detail, teamwork and a drive for perfection. It is with that spirit, and a lifelong passion for fine wine, that he and his wife, Debra, opened Adobe Road Winery in 2002. Along with a small and dedicated team, they have been crafting ultra-premium, award-winning wines from some of the very best vineyards that Sonoma and Napa counties have to offer.
With placements in some of the top restaurants in America, and more than 30 - 90+ point ratings from the Wine Spectator and Robert Parker's Wine Advocate, as well as numerous awards and accolades, it is no surprise Adobe Road Winery is looking forward to an exciting future with big development plans already underway. While we are preparing to open our incredible new winery headquarters and entertainment complex on the vibrant Riverfront in downtown Petaluma, we are hosting guests at our transitional tasting room, just blocks blocks away in the Petaluma Mill building as well as at our racing team's headquarters where we are able to offer private tours and the opportunity to see the progress firsthand.
Learn more at www.AdobeRoadWines.com
The Racing Series is comprised of 4 ultra-premium, California, red wine blends, all inspired by moments on the race track. They are the vision of a man who is an expert in both fast cars and fine wines, Legendary Race Car Driver, Race Team and Winery Owner, Kevin Buckler. Back in 1995, Kevin entered his Porsche 911, built by The Racers Group, into the California Grand Prix and won his first professional race. Over the last 27 years, he and his team have built a legacy with more than 100 professional victories around the world including the 24 Hours of Le Mans and the Rolex 24 at Daytona (4 times). Then, in 2002, he and his wife, Debra, started a small boutique winery called Adobe Road, built on many of the same principles that made them successful in racing: pushing limits, a drive for perfection, focus, attention to detail, and teamwork.
Adobe Road Winery's Racing Series represents the culmination of Kevin's personal passions, vision and leadership skills. The wines capture the adrenaline rush of a podium finish and the finesse achieved through years of patience and hard work.
The Racing Series makes its way to the starting line on January 21st, 2019 to kick-off the Daytona racing week. The 4 wines will be available individually and as a complete set in a custom display box.
The Racing Series wines are ideal for wine lovers, collectors, car enthusiasts, and motorsports fans alike. Ladies and Gentlemen, start your engines!!
Learn more at www.TheRacingSeriesWines.com
For press inquires please contact:
The Racers Group Marketing Department: info@theracersgroup.com
phone: (707)935-3999
Contact us to learn more about Business Opportunities, Available Driver and Race Programs, or simply to learn more about TRG and Adobe Road Winery. info@theracersgroup.com
unsubscribe from this list | update subscription preferences
Share
Tweet
Forward
---
Article Credit: The Racers Group
Back to News