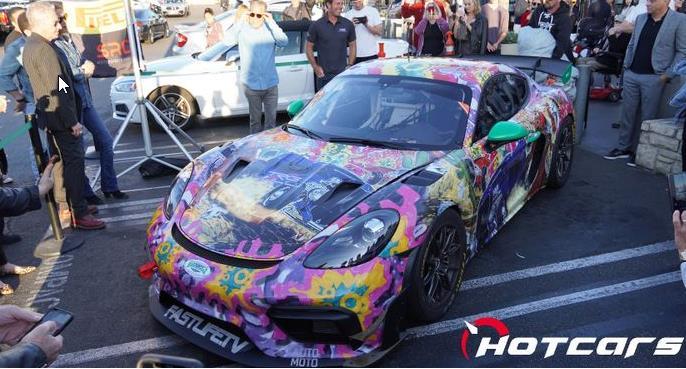 ---
The Racers Group Unveils Wild New Livery For This Porsche Cayman GT4 RS Clubsport
The Racers Group unveiled an all-new racecar featuring all-new livery this past weekend at the Farmer's Market in Los Angeles. Replacing the tried-and-tested Porsche Cayman GT4 that drivers Derek DeBoer, Spencer Pumpelly, and Andy Lally piloted last year, the team turns to the new-for-2022 GT4 RS Clubsport bedecked in a brilliant cartoon design penned by Zap Comix artist Robert Williams.
The #66 car heads to Sonoma Raceway for the inaugural outing of the Fanatec GT World Challenge America Series on April 15, where DeBoer will reunite once again with co-driver Jason Alexandridis. But first, on a bright Saturday afternoon in LA, DeBoer helped pull the curtain off this spectacular Porsche and a limited series of wristwatches sporting artwork to match.
The debut took place at the historic Farmer's Market, which actually hosted racing on a board track decades before developing into the massive shopping and restaurant center that occupies the site today. SoCal's local AutoMoto Film & Arts Festival organized the reveal in the hopes of promoting the car, its team, and the artist Robert Williams himself.
A swelling group of guests and curious onlookers gathered to check out the cloaked Porsche, as well as a fun board-track racecar parked nearby without any covering. The little open-wheeled car—though cart seems like more of an apropos term—would apparently compete at around 60-70 miles an hour on quarter-mile banked ovals. With zero safety equipment and harsh metal cocooning the driver, no wonder board tracks developed such a reputation for dangerous racing (and don't even ask about the motorcycles).
Williams established himself as a name in Southern California's hot rod culture when he designed advertisements and graphics for Big Daddy Ed Roth, of Rat Fink fame, throughout the late 1960s. Along with R. Crumb, he then joined Zap Comix and progressed through a lengthy career that blended cultural criticism with psychedelic themes, cars, tattoos, and film noir.
For the GT4 Clubsport, Williams worked on a wrap featuring cowboys with lever-action rifles hunting what looks like a Ford Highboy hot rod in front of a decidedly psychedelic backdrop. Two series of watches from BRM Chronographes limited to only 13 per design will mirror the Porsche's eye-catching livery.
Many of the gearheads on hand undoubtedly showed up to learn more about the car itself, in addition to supporting TRG and Williams. Early reviews of the road-going GT4 RS indicate that anyone hoping to combine the Cayman's mid-engined chassis with the legit track power of a high-revving GT3 engine should certainly consider this swansong to the internal-combustion era.
The GT4 RS Clubsport takes track performance to a different level than that street-legal version with a stripped interior, real racing rubber, and plenty of safety equipment (as opposed to the board-track car). Those swan-neck spoilers holding up the unadorned carbon fiber rear spoiler allegedly help boost downforce by 25% compared to the "base" Cayman GT4, without any concomitant increase in turbulence or drag. A manually adjustable front splitter and side skirts help, too, though the engine will serve as the main attraction that most GT4 RS buyers focus on while writing big checks to fund their passion.
With a 493-horsepower GT3 flat-six displacing 4.0 liters and capable of a screaming 9,000-RPM redline, the Clubsport should serve TRG's purposes well. Whether DeBoer (left, above) will be able to hear his Crew Chief John Graham (on the right) over the sound of air intakes mounted directly behind his helmet remains a serious question, however, after Graham climbed into the Clubsport and gave the crowd a few good revs. Still, DeBoer revealed that he already made improvements upon his previous lap bests at Sonoma in only the first day of testing behind the wheel of the new car.
Graham, meanwhile, admitted that despite the many mechanical revisions Porsche's engineers overcame while shoehorning a GT3's powerplant into a mid-engined chassis, the overall similarities outweigh most differences—but he still plans to largely tear the car down to get accustomed to every last detail. His prep goes so far as to adjust the air pressure on his impact wrench and then test torque values with a torque wrench after giving the wheel nuts (fitted on studs, unlike the centerlocks on the road car) a good blast. Surprisingly, despite all the hype around Porsche finally installing a dry-sump engine into the Cayman chassis, Graham said he never witnessed any oil starvation issues in TRG's previous Porsche last year, despite a massive array of data logging computers onboard.
Wrapping a car as complex as the GT4 RS takes some serious focus, thanks to all the aero goodies at almost every surface, plenty of air intakes on each side, and wheel-arch cutouts inspired by the GT1 racecar that originally spawned the first famous dry-sump, water-cooled Mezger engine. In fact, TRG only partially finished the job the day before and a few last-minute sponsor stickers required application on-site, including for Derek and his wife Brooke DeBoer's Fastlife racing documentary series. Brooke brought copies of her children's book Let's Go Racing along, which aims to inspire children to follow their dreams—even if that includes motorsport.
Having formerly driven Aston Martins for TRG, Derek DeBoer also counts Lamborghini, Formula Renault, and Formula Dodge in his driving history. Notable finishes include a win at Le Mans, a top-10 at Daytona, and two wins at Road America, plus numerous podiums including second-places at Laguna Seca, Circuit of the Americas, and the Canadian Tire Motorsports Park. His co-driver, Alexandridis, returns after driving a McLaren 570S GT4 for two races last year. The duo will take the GT4 RS Clubsport to Sonoma in April for the newly wrapped car's inaugural race, where DeBoer and Graham both hope they can coax more out of it than their previous Cayman. Regardless of finishing position, though, the brilliant new livery from Williams will certainly help TRG stand out from the pack in Northern California.
Sources: gt-world-challenge-america.com, brm-chronographes.com, fastlife.tv, amfilmfest.com, and derekdeboerracing.com.
Back to News