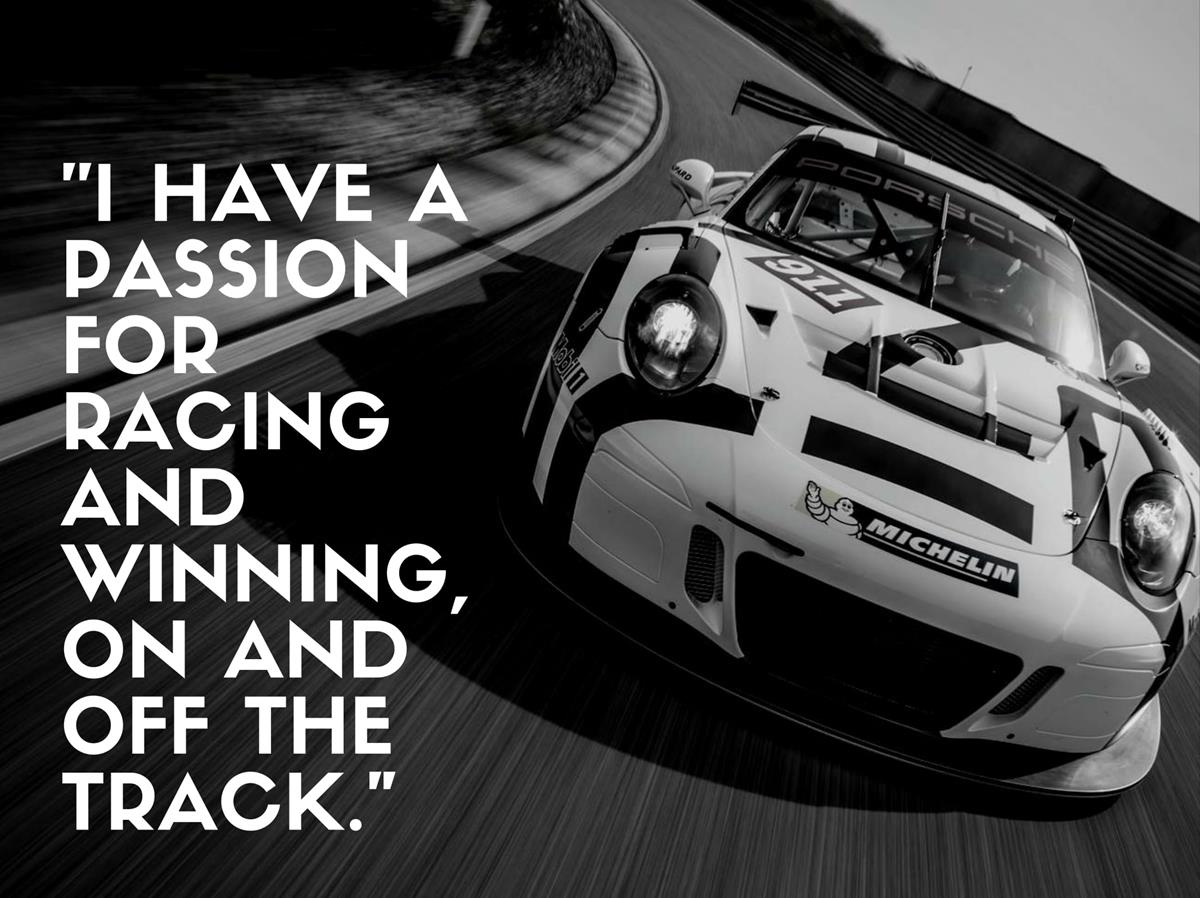 ---
TRG Announces Daytona Driver Line-up
An Exciting Opportunity in Daytona
TRG Squad Features DeBoer Racing Beside Wolf Henzler at the Rolex 24 Hours
The Racers Group today announced its driver lineup for this year's running of the Rolex 24 Hours at Daytona. The team is proud to reveal that Porsche factory driver Wolf Henzler will head up the TRG squad for the entire IMSA WeatherTech GTD season, which includes the Tequila Patrón North American Endurance Cup. Henzler is joined by top sportscar drivers Jan Heylen, Derek DeBoer, Santiago Creel and Pablo Sánchez, who will race with the Porsche 911 GT3 R for the 2017 Daytona event.
TRG has one of the most storied histories of success at Daytona, with more consecutive appearances than any other team in its class, earning 13 podiums and four wins with Porsche – including once overall. Team CEO, Kevin Buckler, is known for his unrelenting drive and keen race strategy and this legendary race provides the biggest American stage on which to perform.
Henzler's prestigious history with the Porsche marque underlines the value of his addition to the Californian sportscar race team. With five 24 Hours at Daytona appearances – including a pole position and a win – and nearly ten showings at the 24 Hours of Le Mans, his confirmation as a full-season TRG driver is one more step towards a successful 2017 championship run. Henzler raced both the 911 RSR and the 911 GT3 R in 2016, and will contribute his well-honed skills and Porsche racing knowledge to kick off the team's GTD campaign.
Jan Heylen joins the team for his sixth 24 Hours at Daytona race and his first with TRG. In 2015, he competed in the endurance event, taking 3rd in the GTD class with a Porsche 911 GT America. The Belgian's race experience extends far beyond Porsche, with early success in Renault Eurocup, Formula Ford, Formula Three Euroseries, Formula 3000 and the Champ Car World Series.
Popular sportscar racing personality and professional TRG driver Derek DeBoer last competed in this legendary event with Kevin Buckler-led team in 2015. His career has skyrocketed in the past season, taking multiple podiums and a win with the team's Aston Martin and Lamborghini programs. Earning a seat in TRG's return to this race weekend with the Porsche brand further cements his partnership as a star driver and well-regarded ambassador for the team.
Santiago Creel returns to race this 24-hour event with TRG for the second year in a row after taking the wheel of the team's No. 007 Aston Martin V12 Vantage in 2016. Creel is a longtime Porsche pilot, racing in the Porsche GT3 Cup Challenge USA, Porsche Mobil 1 Supercup, plus the Pirelli World Challenge, Santander Panam GP Series, and SEAT Leon Super Cup Mexico. The Mexican driver will bring his valuable experience in endurance racing, having competed in 24-hour events at Daytona, Dubai, Barcelona and Mexico.
Creel is joined by fellow Mexican driver Pablo Sánchez, who also has experience racing with Porsche. After moving up the ranks with wins in the International Formula Masters and the Italian Formula 3 Championship, he continued on to race in Formula Renault 3.5, GP3, the American Le Mans series, and Porsche Mobil 1 Supercup. He most recently raced in the 24-hour Hermanos Rodriguez Endurance Challenge in Mexico City.
A big part of the 2017 lineup off of the track is the continued presence of team supporters, LaSalle Solutions. This Chicago-based company has been a fantastic friend of TRG and routinely bring dozens of guests to join the fun in race paddocks across the country. LaSalle's partnership with Buckler's team has proven to be fruitful. The president of the Solutions Group, Steven Robb, makes time to attend as many races as possible (and his stand-in, "Lil' Stevie" the bobblehead, joins when he can't). During event weekends, this IT asset management firm makes use of TRG's custom co-branding and corporate hospitality opportunities in the unique trackside environment, making a strong case for the opportunities to build B2B relationships through sportscar racing.
"I was thrilled when I heard about TRG being back with a Porsche in the IMSA WeatherTech Sportscar Championship," said Henzler, "and that I will be one of the drivers in their brand-new 911 GT3 R. I've had a lot of success with the team when I raced for them at Daytona. In 2010 we finished 3rd in GT, in 2011 we finished 1st in GT, and 2nd in GT the following year by only 9 seconds!
"I'm proud to be part of Kevin Buckler's team in 2017. He is doing an amazing job and has an awesome team at TRG. TRG knows very well what it needs to have a winning car on the track. Finally, I'm glad the Roar at Daytona is not so far away, because I can't wait to sit in the new car."
"I'm excited to be a part of the team and really look forward to racing with everybody," said Heylen. "I know Kevin's track record at Daytona and I'm confident that we can do well. I'll be driving next to Wolf Henzler, who I've worked with in the past and who is a very close friend of mine. The last two times I did Daytona, we finished on the podium but never on the top step - so hopefully this time around we can do just a little better and get that watch!"
"I'm so excited about the way the 2017 season is shaping up, and to be starting out in Daytona with TRG with their return to Porsche is going to be epic," said DeBoer. "A lot of hard work from all sides is starting to pay off, and I couldn't ask for a better teammate to learn this new car with than Wolf! We're ready to get TRG their 5th win at this amazing event!"
"I'm really happy to race at Daytona once again with TRG," said Creel. "Now, with the Porsche GT3 R, I really think that the TRG and Porsche partnership is going to produce a winning combination! Thanks to my sponsors Cavall 7, Unifin and Novag to help make this possible."
Sánchez agreed, saying, "I am very happy to join TRG on this new adventure. For me, it has been a dream to drive the Rolex 24 Hours at Daytona. I also have to thank my sponsors Novag, Unifin, and Cavall 7 to make it happen."
"The Rolex 24 hours of Daytona is not only the biggest sports car event in North America but also one of the most recognized event in motorsports worldwide," said Robb. "LaSalle Solutions is excited to continue our partnership with TRG, and kick off the 2017 season.
"Daytona gives us a rare opportunity to spend time with our Customers and Partners over an entire weekend and we take this opportunity to introduce some new technology and partnerships. We look forward to spending time with current and future friends in the TRG Paddock."
"This just tops-off our awesome 'full-circle' return with Porsche starting at Daytona," remarked Buckler. "Having Wolf back is fantastic after his solid three year run with us from 2010, 2011, and 2012 that resulted in two podiums and a victory for the team. He is the absolute perfect soldier with all of the necessary ingredients for winning a championship, and we are proud to have him on board for the entire season as our lead driver. His experience with Porsche, TRG, IMSA, the tracks, and even with the other competitors will benefit us immensely with solid communication and strategy all year long.
"I can't say enough about how happy we are to have Derek DeBoer running with us here in the GT3 in our top program. This guy can drive and he earned it! Derek and I laid out a three year plan and have totally hit our marks. He is fit, fast and smart and is simply a perfect co-driver with Wolf. Professional motorsports today has evolved into so much more than even 10 years ago and we are truly proud to have Derek be piloting our TRG car and to represent the company.
"It Is fantastic to have Santiago back and I have been so impressed with his driving and also with his heads-up approach to endurance racing. He has always been a fantastic teammate and this year we are welcoming his friend and co-racer Pablo Sánchez to our team. Pablo has an amazing resume and strong experience and we have now rounded out our lineup and are ready to go.\
"A big thank you to Porsche Motorsports for the show of faith they have put in us here with assigning Wolf to our squad. Our history at Daytona with Porsche is unmatched and we are coming here to repeat and to run down a championship. Their support both on and off the track is unmatched in the paddock and I would not want to be in any other car especially starting at Daytona.
"Regarding the rest of the season, we are in final negotiations with several drivers and it is going to be really good. This has got to be the most competitive GT field I have ever seen anywhere. Great teams, drivers and terrific competition. There will be eight or nine manufacturers and several full factory teams hiding here in GTD. Bring it: We are ready!"
Courtesy: The Racer's Group
Article Media
Back to News