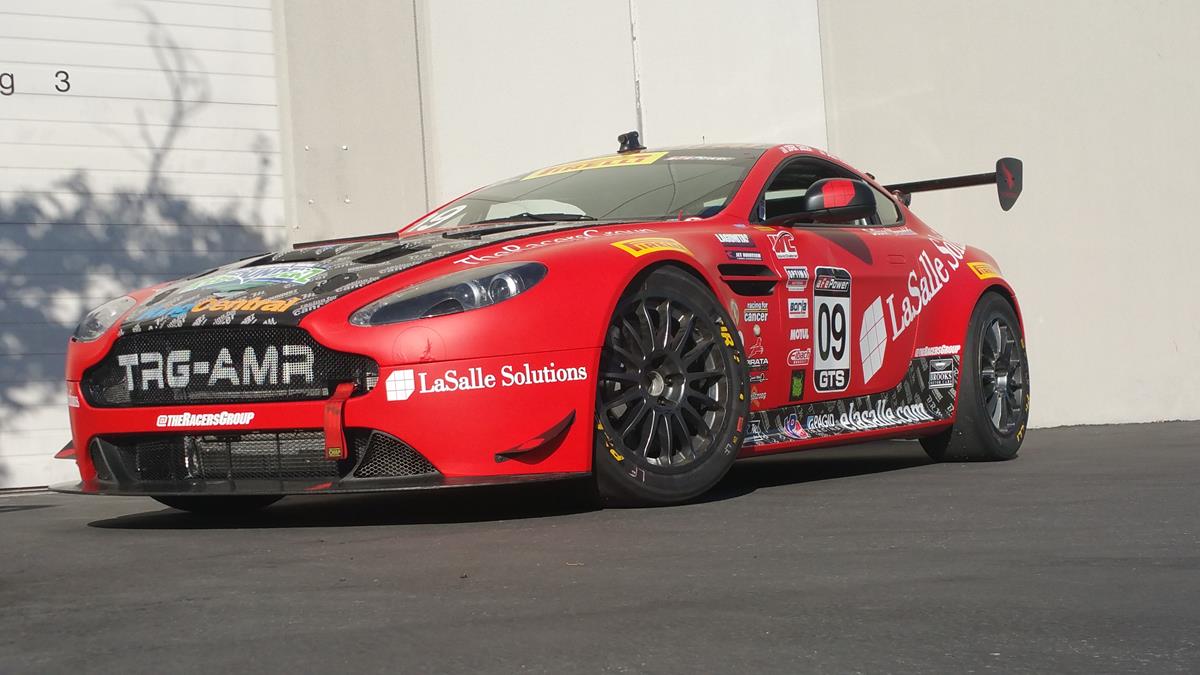 ---
Taking Aim at Big Results
Derek DeBoer returns to Mazda Raceway, the track where his racing career began 17 years ago, firmly in the running for the Pirelli World Challenge SprintX GTS team and individual driver titles. The Racing Group's (TRG) DeBoer heads into this weekend's final SprintX races with momentum, coming off of first and second place finishes in the series' previous round at Utah Motorsports Campus in July.
Derek will share driving duties in the The Racer's Group No. 09 LaSalle Solutions | BRM Chronographes | Racing for Cancer Aston Martin Vantage with his TRG-AMR teammate and season-long co-driver Jason Alexandridis.
"I'm really looking forward to big results," Derek says. "We are racing against a very competitive and expanded field in SprintX here at Laguna Seca, so our work will definitely be cut out for us. I'm aiming for the team championship and stretching and racing for that individual title, too." Derek, currently in second place, is chasing teammate Max Riddle, who is leading the standings.
Adding excitement to this race weekend, a brand-new celebratory LaSalle Solutions red livery will be on full display as DeBoer and Alexandridis defend TRG's SprintX GTS class lead.
"It's always exciting to get behind the wheel of anything that TRG puts on the track, but this weekend is feeling particularly big," DeBoer says. "LaSalle Solutions has been part of the TRG family going back to my first race at the Daytona 24 in 2015 and to have the opportunity for the team to continue to partner with them heading into next season feels even bigger. It's a real honor to have such a great team partner."
"BRM Chronographes, Rebounderz, Racing for Cancer, Pirata della Strada and Simon Ward have also been great partners and I am thrilled to have them as such an integral part of the team," Derek goes on to say. "And, of course, #CateStrong, #Mason'sHope and now #17Strong are also riding along on the No. 09 this weekend and these three strong kids and their continued fight battling cancer are continuously in our thoughts."
Derek DeBoer's Pirelli World Challenge On-Track Schedule
Mazda Raceway, October 7-9
Friday, October 7
8:45 - 9:15 a.m. - SprintX practice
1:20 - 1:50 p.m. - SprintX practice
3:35 - 4:05 p.m. - SprintX qualifying
Saturday, October 8
12:50 - 1:35 p.m. - SprintX practice
3:40 - 4:00 p.m. - Pre-Race and March to Grid
4:00 - 5:00 p.m. - SprintX Race 1 (DeBoer start/Alexandridis finish
Sunday, October 9
2:45 - 3:15 p.m. - Pre-Race and March to Grid
3:15 - 4:15 p.m. - SprintX Race 2 (Alexandridis start/DeBoer finish)
Races will be streamed live at world-challenge.com and re-broadcast on the CBS Sports Network.
Article Media
Back to News