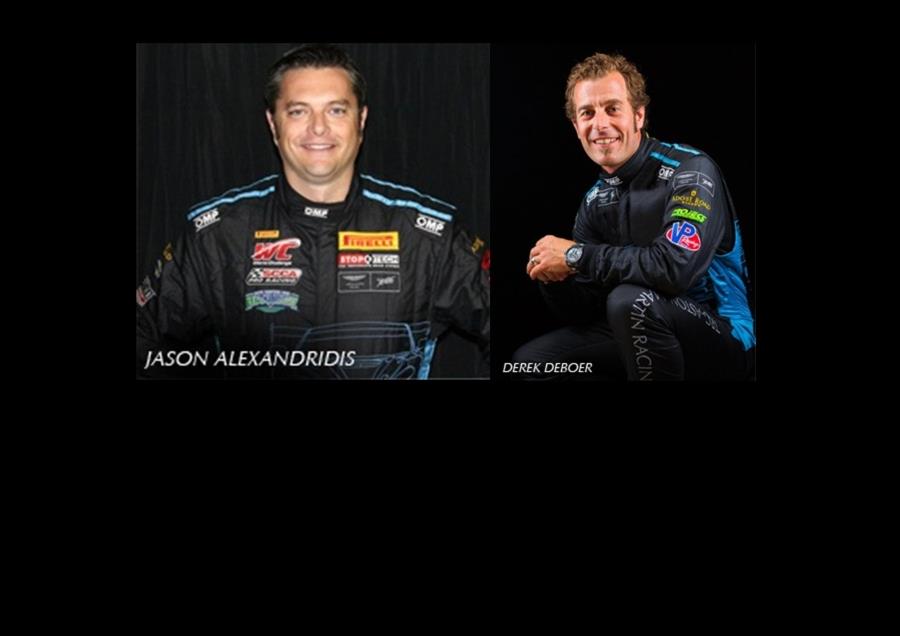 ---
TRG-AMR Announces First 2016 Pirelli World Challenge Driver Team in GTS Class
TRG-AMR Announces First 2016 Pirelli World Challenge Driver Team in GTS Class
Written by Series Staff
Print
PETALUMA, Calif. -- After finishing the 2015 Pirelli World Challenge season with the most wins of any team in GTS class, TRG-Aston Martin Racing announces its first driver lineup for 2016. TRG-AMR drivers Derek DeBoer and Jason Alexandridis are returning from their 2015 partial season campaign to drive the V8 Vantage in 2016 as a driver team. Both drivers showed strong pace in 2015, with Derek winning his class earlier this year in the Aston Martin Le Mans Festival race in support of the 24 Hours of Le Mans.
The driver team will compete for the entire 2016 PWC season in GTS class and will be chasing a newly formatted team championship as a pair. Both drivers will be competing at each race on the schedule, as well as co-driving in the new to-be-announced Sprint X races. The Aston Martin V8 Vantage showed its competitiveness in 2015 and both drivers are expecting big results in 2016.
Committed sponsors supporting Jason include Rebounderz Trampoline Arena while Derek will continue to represent BRM Chronographes, Pirata Della Strada and Racing for Cancer as a brand ambassador. Additional partnership opportunities still remain for this driver pair as well as well as broader involvement with TRG-AMR in the Pirelli World Challenge.
"I'm excited to be returning to the PWC, but this time with a little more experience under my belt and for a full season," said Derek DeBoer, TRG-AMR team driver. "TRG-AMR has become family to me and I look forward to returning for another season. The Sprint X format and team championship have created a scenario that not only is giving me this opportunity as a driver, but also opened the doors to a great new friendship with my teammate Jason. I can't wait to drive the beautiful Aston Martin V8 Vantage GT4 to the front of the field."
"I am extremely excited and grateful to announce my first professional full race season in the Pirelli World Challenge," said Jason Alexandridis, TRG-AMR team driver. "My gratitude is far reaching as feel I have found a home with an outstanding and experienced team in TRG-AMR and strong partnership and friendship with my co-driver Derek DeBoer. I am pumped about the new Sprint X race format and new team championship that is really the driving force that is allowing Derek and I to combine for a full season. I want to thank PWC for their insight with this program which helps accelerate the path to pro racing for guys like me. Derek and I are fully committed this season with a focus on winning in GTS class!"
"I couldn't be happier to be able to announce our first driver team in the Pirelli World Challenge," said Kevin Buckler, Chief Executive Officer at TRG-AMR. "We showed incredible pace in the 2015 season and look forward to repeating that performance in 2016. Derek and Jason are both super competitive and we're happy to have them on our team and leading the charge and also in testing out this new multi-driver format. The chemistry between us all is just fantastic and it will show this year on the track. We'll be offering a similar "shared season" model to several other drivers so that they can pick and choose their favorite races and we can still field a complete car for the season with multiple drivers. We expect additional driver announcements in the coming weeks and are excited about the direction that Greg Gill and the PWC management team are taking the series. It continues to be unbelievably competitive and we look forward to fighting for a championship in 2016."
---
Article Credit: PWC Staff
Back to News