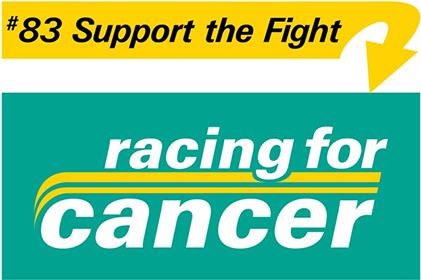 ---
Racing For Cancer and Derek DeBoer Form Partnership
Derek DeBoer / Racing For Cancer Release
Racing for Cancer and Derek DeBoer, with the TRG-AMR team are pleased to announce an exciting partnership for Derek's next race. Derek will campaign the No. 83 Racing for Cancer B.R.M. TRG-AMR Aston Martin Vantage GT4 in the 2015 Le Mans Festival race held just prior to the start of the 2015 24 Hours of Le Mans on June 13, 2015. In addition, Derek is pleased to announce that he will launch the "83 Reasons to Follow car 83" fundraising program to allow fans to donate to Racing for Cancer and have their name or a loved one's name honored on Derek's No. 83 Aston Martin for the event.
The donation requested will be $100.00 and 50% will go directly to Racing for Cancer. With this donation, the name of the donor or loved one will be included on a yellow note strip above the rear tire of Derek's race car. Each donor will receive an email with a hi-res digital photo of the name that they requested on the Aston Martin as well as additional hi-res photos of the car in action from the race. To donate and be a part of the campaign, please go to www.derekdeboerracing.com/shopping/
Racing For Cancer is a registered 501(c)(3) non-profit organization co-founded by 2012 IndyCar champion, and 2014 Indy500 champion, Ryan Hunter-Reay. Ryan started the charity following his mother's passing from cancer in 2009. Since 2010, Racing for Cancer has been working towards a goal of uniting motorsports fans, teams, drivers, and sponsors to take of their collective generosity to support the global fight to beat cancer. Through various fundraising programs, Racing for Cancer is focused on the awareness and value of early detection and prevention. Nearly one third of all cancer is said to be preventable. In addition, they aim to do more to help in the fight against childhood cancer. One in every 300 children will be diagnosed with cancer before the age of 19 and cancer is the number one cause of disease-related death among children. With your help we can do more in advancing the global fight to beat cancer!
Derek will use the Le Mans Festival event as the initial opportunity to partner with this great charity. Look for further announcements from Derek DeBoer and Racing for Cancer on expanding the partnership in 2015, 2016 and beyond.
No. 83 Racing for Cancer B.R.M. TRG-AMR Aston Martin Vantage GT4 driver Derek DeBoer, "I am so excited for this chance to turn my first laps on the most hallowed ground of endurance racing- Le Mans. Doing this with my family and racing family of TRG-AMR is exactly how I would dream up my first Le Mans experience. Even larger than this- I am honored to be announcing my partnership with Ryan Hunter-Reay's Racing For Cancer charity and see it as an opportunity to both educate and raise the much needed funding to continue this global fight. Much like Ryan, I've experienced cancer from an outside view- Loved ones have been lost, families and relationships have been torn apart, and a lucky few have won! I've felt and witnessed the Grace, Bravery and Fear that come along with cancer and see the largest determining factor of the end result coming with early detection. That is what this partnership is all about- educating to find it early so that there is a chance to win."
Racing for Charity President and co-founder Tom Vossman added, "We are excited to partner with Derek in this historic race week. It has been our goal to expand our efforts to all motorsports so this partnership is a real pivotal step in our commitment to grow and do more for the cancer community. Derek is aligned with our vision and is very committed to support our efforts!"
TRG-AMR CEO Kevin Buckler, "This is a great cause and well put together and I could not think of a better ambassador than Derek. He has been such a fantastic friend and teammate and is always so committed to making sure that whatever he touches achieves integrity and success. Having this debut at one of the greatest sports car racing events in the world just puts on the final touches and we look forward to helping Derek with his Racing for Cancer campaign and its debut at Le Mans."
"I lost my mom, who was by my side my entire career, tragically to this disease." added Ryan Hunter-Reay. "I wanted to give back and do so in a way that emphasized the need for early detection and prevention. In just four short years, through the help of our partners, we have donated over $3 million in the global fight. I am committed as ever to grow and do more so hopefully someday, nobody has to go through what my family endured in the loss of my mom, Lydia."
Credit to:
Matt Ambroziak
ambro76@gmail.com
Article Media
Back to News